Take a Book. Share a Book.
You may have noticed Little Libraries appearing here and there. Now, a Little Free Library has been installed at the Cloyne Pioneer Museum. Cathy Hook built this library for her daughter in 2012 using a plan from the Little Free Library website when she moved to Hamilton. At the time, it was only the second Little Free Library in the city. Having moved, the library needed a new home and it found its way back to Cloyne. Originally he library was painted sage green and white. It was repainted in 2019 to blue and yellow  as seen during an ice storm) after it was vandalized,. Today it brown with a black roof.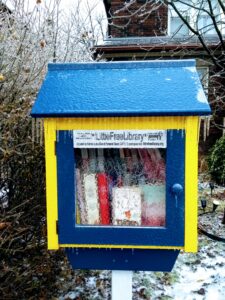 The mission of the Little Free Library organization is to "be a catalyst for building community, inspiring readers, and expanding book access for all through a global network of volunteer-led Little Free Library book-exchange boxes. Our vision is a Little Free Library in every community and a book for every reader."
Today, there are over 150,000+ little free libraries in 120 countries with over 300 million books shared.
As part of the Little Free Library system it appears on the global map on the website.