Each month beginning from April to September 2023, expert speakers will invited to talk on a variety of general interest topics. The Speaker's Forum is organized by the Cloyne and District Historical Society and the Lions Club of Land O' Lakes partnership. Topics include Art and Art Restoration, Geology and Local Mines, Armed Forces Cargo and Search and Rescue, Climate Change as well as Financial Investing. Truly, this event has something for everyone!
We acknowlege generous funding for this event from the County of Lennox & Addington Activation Fund! Thank you for your support!
Speakers will begin at 7 pm with a Q&A ending at approximately 8:30. Doors are open at 6:30 pm.
Attendance is free. Space is limited so register early.
April 12, 2023: The evening will start at 6:15 pm with the Inauguration of the Friendship Arch. Beginning at 7 pm, Art Consultant Ray Charbonneau will discuss what is art, art restoration, how to properly hang art and should you buy art.
May 10, 2023: Geologist Garry Smith will speak about geology and explain the interesting history of our local mines including the Ore Chimney and Golden Fleece mines.
June 14, 2023: LCol Dana Sliwinski is a Commanding Officer of the RCAF and will speak on International Cargo. LCol Jean-Paul Landry is Commanding Officer of 424 Transport and Rescue Squadron, RMC and will speak on Search & Rescue.
July 12,2023: Dr. Robert McLeman is an expert on Climate Change . He will discuss what effects Climate Change will have on Eastern Ontario and specifically the Land O' Lakes region.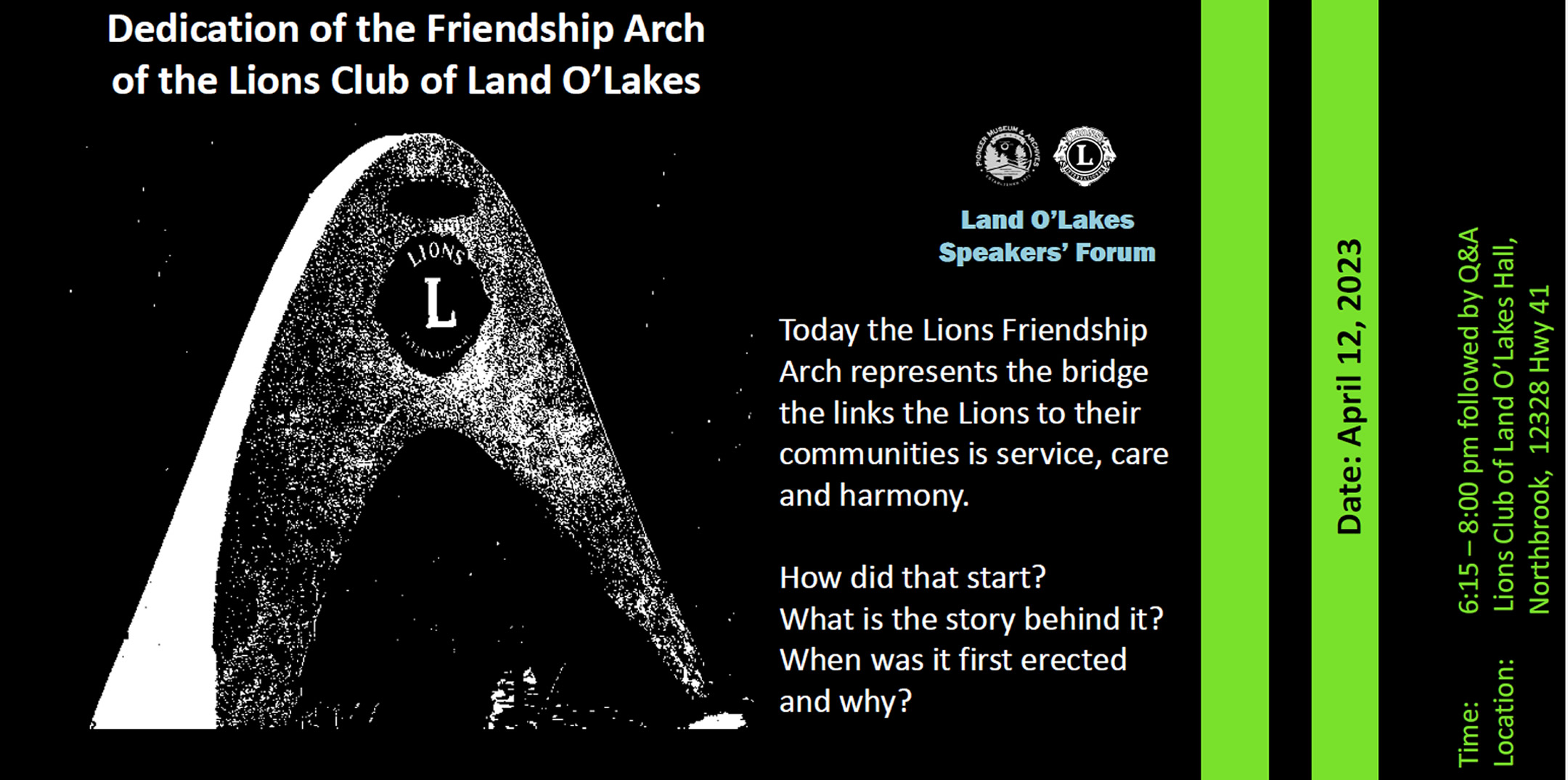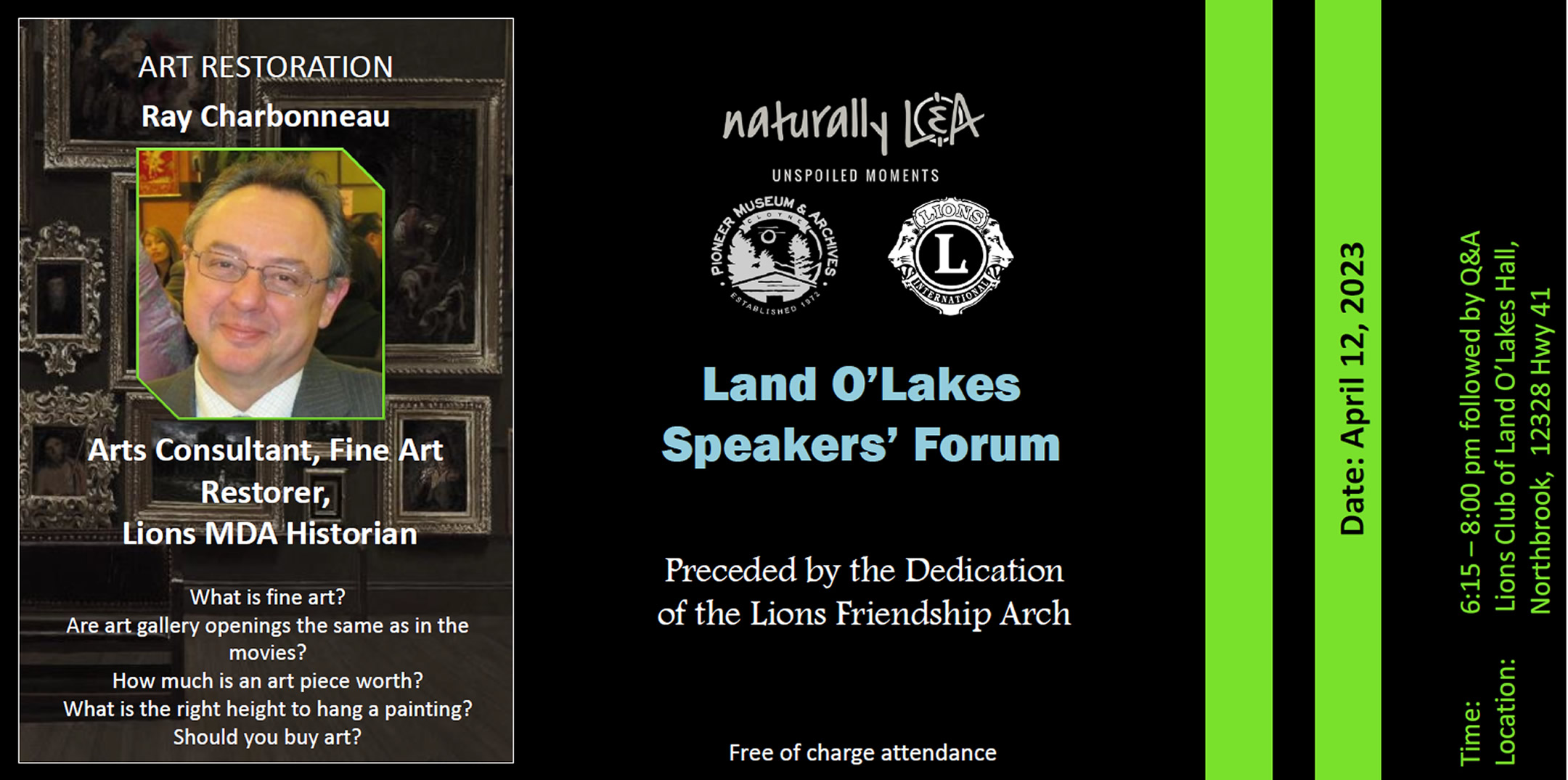 Ray has spent 40+ years working in the Fine Art industry. Based in Toronto his work has taken him all over North America and beyond. He has had the pleasure of working with galleries and museum as well as private, corporate and government art collections. His experiences also include working with artists, curators, registrars, archives, exhibitions, auctions, appraisals, designers, architects, framing, conservation, installation, lighting, packing, moving, and storage.
What is fine art? Are art gallery openings the same as in the movies? How much is something worth? What is the right height to hang a painting? What are the most expensive things you have worked with? Should you buy art?
416-261-8037 razart@rogers.com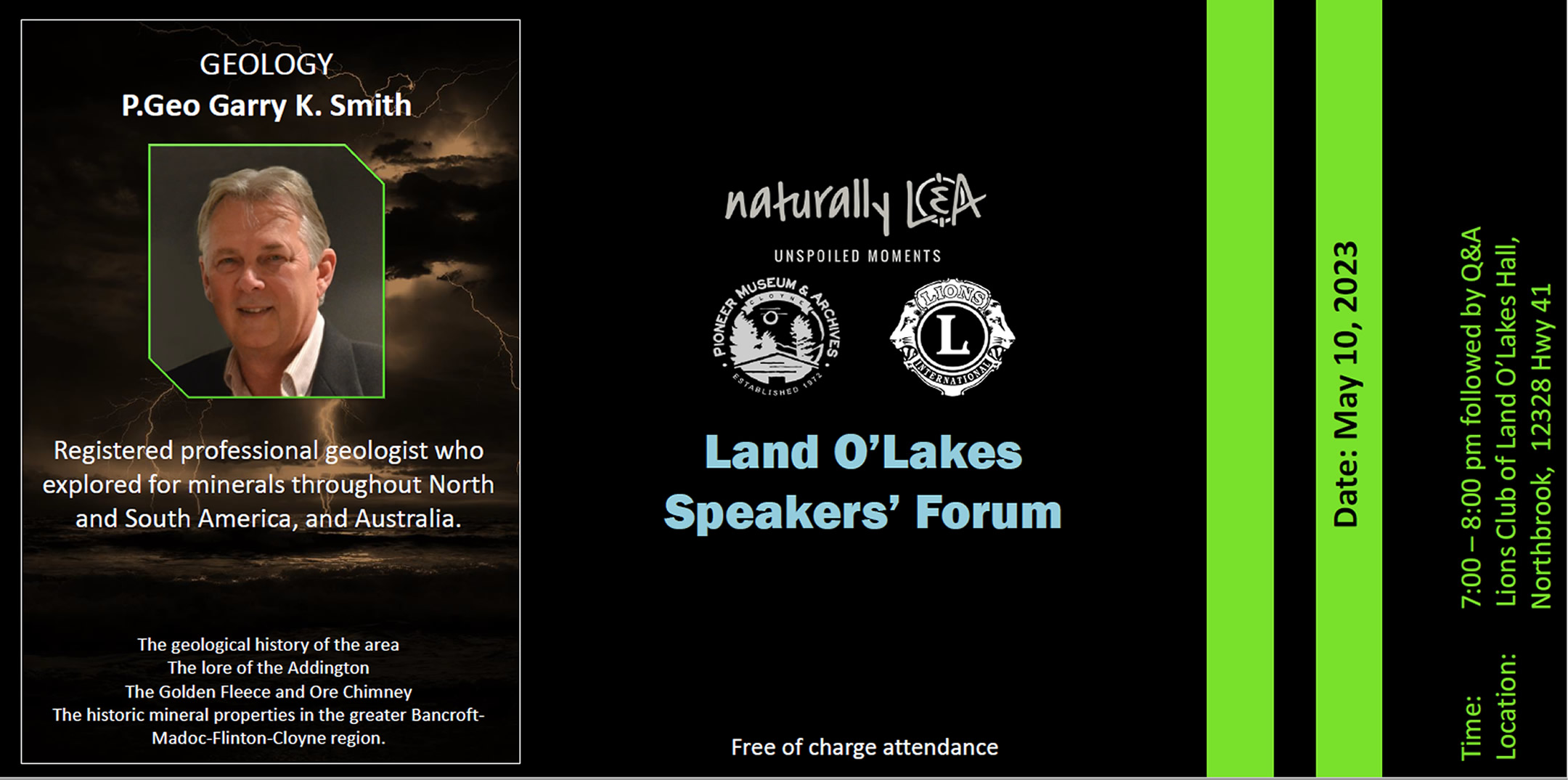 Garry is a registered professional geologist that has explored for minerals throughout North and South America, and Australia. Recently, he has managed exploration programs on a number of historic mineral properties in the greater Bancroft-Madoc-Flinton-Cloyne region. He also has property in Barrie Township and pays municipal taxes! We have asked him to speak on some of the interesting mining history of our area including the Ore Chimney and Golden Fleece mines.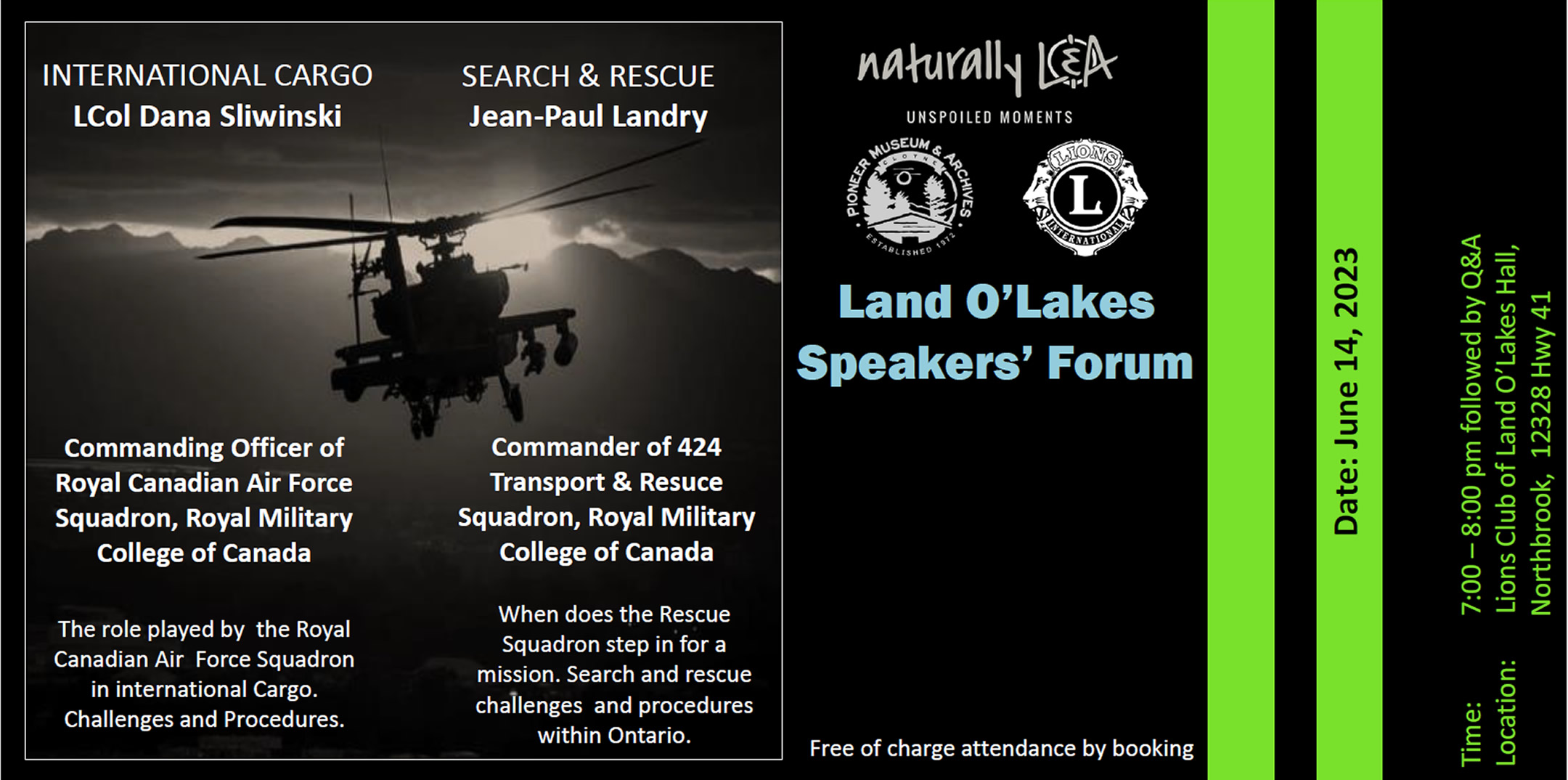 LCol Dana Sliwinski is Commanding Officer of Royal Canadian Air Force Squadron, Royal Military College of Canada. Sliwinski has completed a Bachelor of Science degree in Physiology from McGill University. She is a recent graduate of the Joint Command and Staff Program at the Canadian Forces College in Toronto, Ontario, and also holds a Masters of Defense Studies from Royal Military College of Canada. She will speak on the role played by the Royal Canadian Air Force Squadron in international Cargo and the challenges and procedures.
LCol Jean-Paul Landry is Commander of 424 Transport & Rescue Squadron, Royal Military College of Canada. LCol Landry is a graduate of the Joint Command and Staff Program and holds a Bachelor's Degree in Mechanical Engineering and a Master's Degree in Defense Studies from the Royal Military College of Canada. LCol Landry will speak on Search and Rescue across Ontario, Canada, Europe and the united States the planes used in the missions, challenges and procedures.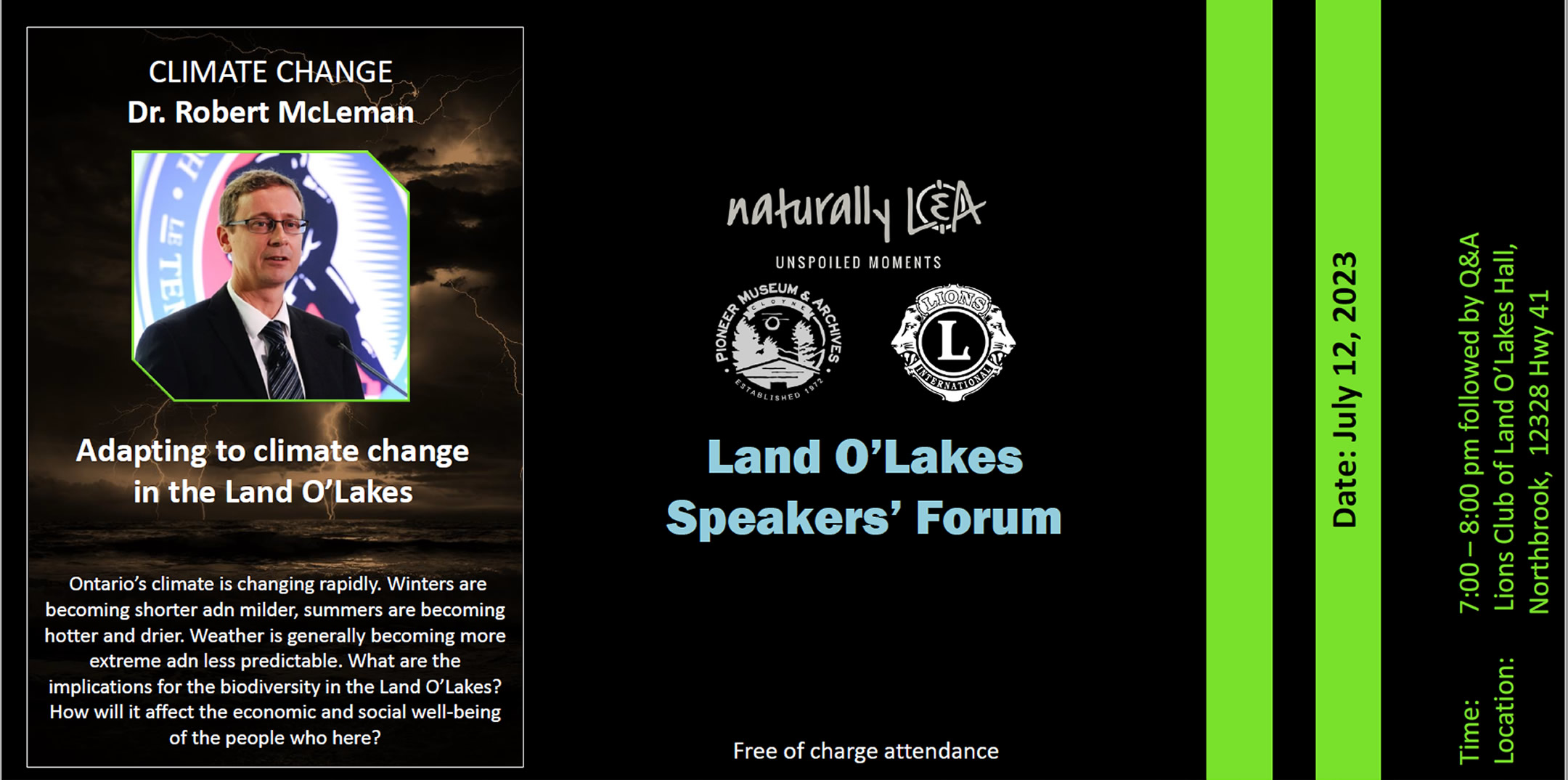 Dr. Robert McLeman is Professor of Environmental Studies at Wilfrid Laurier University. He specializes in research on the impacts of climate change on people and communities in Canada, and has authored multiple reports and studies on climate change in eastern Ontario. He is a Coordinating Lead Author for the most recent Assessment Report of the Intergovernmental Panel on Climate Change.
Ontario's climate is changing rapidly. Winters are becoming shorter and milder, summers are becoming hotter and drier, and the weather generally is becoming more extreme and less predictable. What are the implications for forests, water, and biodiversity in the Land O'Lakes, and how will it affect the economic and social wellbeing of the people who live and vacation here? Using lots of local examples, Professor McLeman will answer these questions and suggest options for building a climate-resilient community.