David Albert Trumble, born December 15th, 1867 (or 1882) was a famous Canadian supercentenarian and resident of Northbrook.  Always a storyteller, character, and often an entertainer, Dave Trumble visited North Addington Education Centre in Cloyne to answer questions from students in the 1977-1978 school year.
An audio file was created in the classroom which is likely one of only a few audio recordings of Dave. It can be played in its entirety here.
Part One is 15 minutes in length. Dave describes working at lumber camps starting at the age of eight years old.  He also explains why he went to school only one day.  Lastly, he talks about his book and book tours.
Part Two is 16 minutes in length. Dave describes his family with 19 children and what is was like during the Depression.
Part One
Part Two
Perhaps the most famous resident ever to live in Northbrook, Dave recalls meeting Prime Minister Pierre Elliot Trudeau and his wife Margaret. He also met Joe Clark and numerous senior-level politicians and appeared on the TV show 'Front Page Challenge'.  He fondly remembers having dinner with celebrity Betty Kennedy – one of the show stars.
Over the years Dave was married five times and fathered 19 children. He ensured all his children went to school even though he only attended school for one day himself.  Dave could neither read nor write.
Supercentenarian Autobiography
With his new fame as a supercentenarian, he had a book written 'When I Was A Boy' in 1976 that sold thousands of copies across Canada and is still available on Amazon.  He participated in book tours as far away as British Columbia, signing stacks of books with a cross.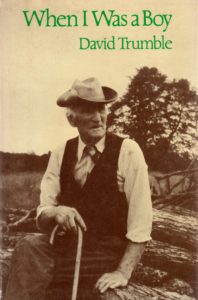 David Trumble's age is currently unvalidated by the Gerontology Research Group (GRG). If his claimed age of 118 is accurate, he would be the oldest man ever, but research shows his age is likely exaggerated by 15 years and he likely died aged 103.
His grave in the Northbrook Cemetery is in the southeast corner and is dated 1867 – 1986, an age of 119 years.